Plaque Honoring Local Living Organ Donor Unveiled in Fort Dodge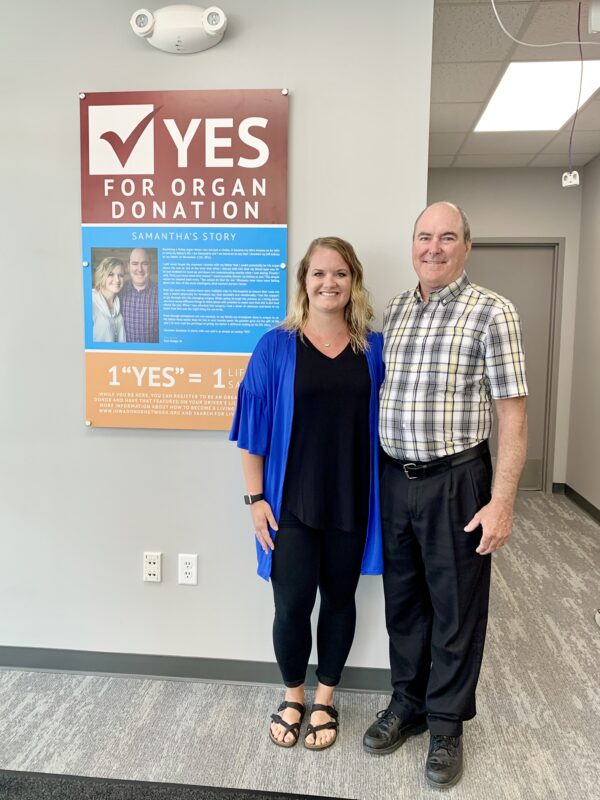 June 29, 2021
Fort Dodge, IA— Saman­tha Reeves of Fort Dodge saved her father's life in 2015 when she donat­ed a kid­ney to him. Now the Iowa Depart­ment of Trans­porta­tion (DOT) is hon­or­ing Samantha's gift with a per­ma­nent plaque, which shares her sto­ry and the impact of her gift, at the new Fort Dodge Driver's License Ser­vice Center.
The DOT col­lab­o­rat­ed with Iowa Donor Net­work to cre­ate the plaque. The two orga­ni­za­tions hope Samantha's sto­ry will inspire oth­ers in the com­mu­ni­ty to say ​"YES" to becom­ing an organ, eye, and tis­sue donor when obtain­ing their driver's license. The DOT has already installed sim­i­lar plaques at three oth­er ser­vice cen­ters through­out the state and has plans to install sev­er­al more soon. All the plaques hon­or a deceased donor, liv­ing donor, or recip­i­ent from the com­mu­ni­ty in which the plaque is installed. More than 1.58 mil­lion Iowans are reg­is­tered to be organ, eye, and tis­sue donors, 97% have reg­is­tered when get­ting their driver's license.
"Iowa Donor Network's strong part­ner­ship the Iowa Depart­ment of Trans­porta­tion and driver's license ser­vice cen­ters across Iowa is vital to grow­ing Iowa's donor reg­istry and sav­ing lives. A sin­gle organ donor can save up to eight lives and a sin­gle tis­sue donor can heal 50 – 300 peo­ple. It is our hope that one day every Iowan will be inspired to donate life," said Heather But­ter­field, Direc­tor of Strate­gic Com­mu­ni­ca­tions at Iowa Donor Network.
There are more than 107,000 peo­ple wait­ing for a life-sav­ing organ trans­plant in the Unit­ed States, includ­ing near­ly 600 in Iowa. Iowans can reg­is­ter to save lives at their local driver's license ser­vice sta­tion or at IowaDonor​Net​work​.org.

For more infor­ma­tion about Iowa Donor Net­work please vis­it our web­site at IowaDonor​Net​work​.org.
---