A Record Number of Iowans Transformed Lives Through Organ Donation in 2020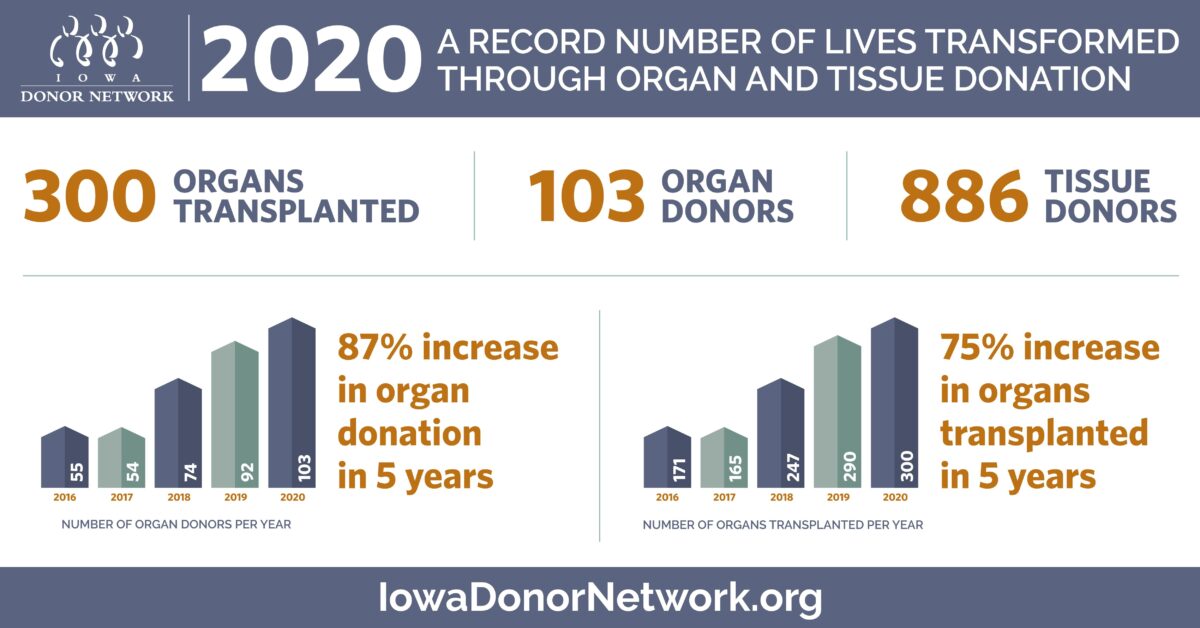 January 21, 2021
North Lib­er­ty, IA— Iowa Donor Net­work (IDN) is proud to announce that for the third year in a row, a record num­ber of Iowans trans­formed lives through organ dona­tion and trans­plan­ta­tion. In 2020, Iowa had the high­est num­ber of organ donors in the state's his­to­ry, result­ing in more organs trans­plant­ed from Iowa donors than ever before. In total, 103 deceased organ donors in the state of Iowa gen­er­ous­ly gave 300 organs for trans­plant. IDN worked close­ly with our health­care part­ners across the state to max­i­mize dona­tion oppor­tu­ni­ties. The num­ber of Iowa organ donors in 2020 sur­pass­es the pre­vi­ous record, set in 2019, by 12%. The num­ber of organs trans­plant­ed sur­pass­es the 2019 record by 4%. Thou­sands more lives across the coun­try were enhanced by the gen­er­ous gifts of 886 tis­sue donors. A sin­gle tis­sue donor can enhance 50 – 300 lives.
"I am incred­i­bly proud that Iowa Donor Net­work was able to save more lives in 2020 than in any pre­vi­ous year. Despite the many chal­lenges of 2020, our donor fam­i­lies con­tin­ued to put their trust in us and say, ​"Yes" to dona­tion. We are hon­ored and thank­ful for their trust which exem­pli­fies the true nature of the human spir­it, the belief that even in the worst of times, there is good in the world. We are also very grate­ful to the ded­i­cat­ed staff of Iowa Donor Net­work who respond when our donor fam­i­lies need us and make dona­tion hap­pen. At an unknown risk to them­selves and their health and well-being, these coura­geous peo­ple report to work in COVID filled hos­pi­tals to give the gift of life to those in need," said Suzanne Con­rad, CEO of Iowa Donor Network.
Iowa Donor Net­work has made great strides in 2020 towards reduc­ing the trans­plant wait­ing list, but there are still more than 108,000 peo­ple in the Unit­ed States in need of a life-sav­ing organ trans­plant. Any­one can reg­is­ter as an organ, eye, and tis­sue donor, regard­less of age or med­ical his­to­ry. To join the donor reg­istry or to learn more, please vis­it www​.IowaDonor​Net​work​.org.
---